Picking out your first car is a very exciting and pivotal moment in your driving journey. You've finished your driving lessons and just got your pristine shiny full licence, and now you want the car to help you exercise your newfound freedom. With the sheer number of vehicle choices out there, it can certainly be overwhelming to land on a decision.
Well, we at Bill Plant Driving School have studied Department for Transport data to look at which car models have the highest MOT pass rates. We've also looked at which car faults are the most common, to give you a better idea of which models are the best choice for your first car.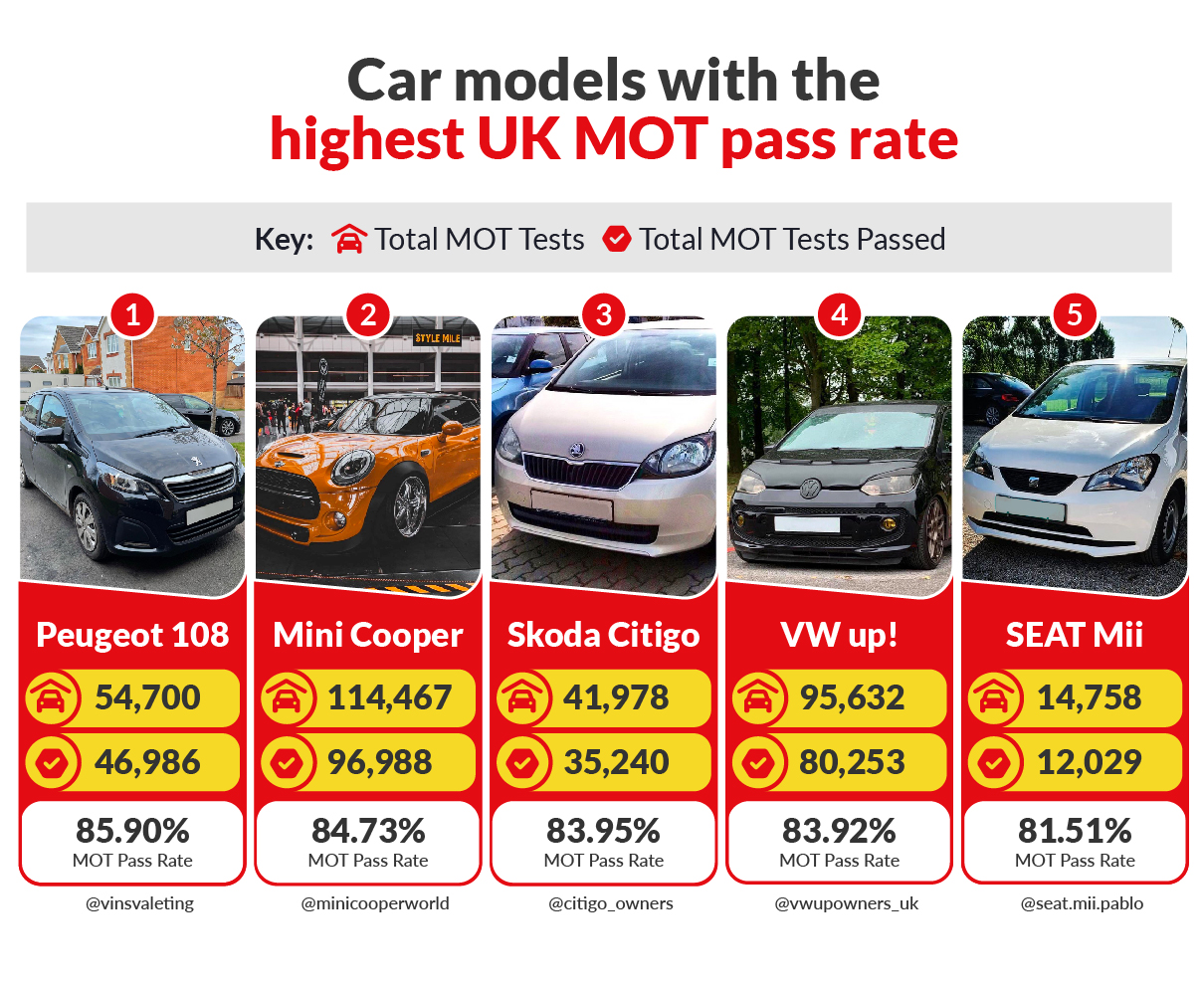 1 – Peugeot 108
Total MOT Tests: 54,700 | Total MOT Tests Passed: 46,986 |
MOT Pass Rate: 85.90%
Coming in at first place is the Peugeot 108, frequently mentioned as a good first car for new drivers. There haven't been any obvious recurring problems with this car and it uses a lot of the already proven components from the Peugeot 107, which should give further confidence for its reliability and longevity. As for safety, the 108 comes with six airbags, and anti-lock brakes to prevent skidding when abruptly braking, as well as electronic stability control. You're likely to find this car used too, which presents the opportunity for a real bargain.
2 – Mini Cooper
Total MOT Tests: 114,467 | Total MOT Tests Passed: 96,988 |
MOT Pass Rate: 84.73%
Next up, we have a rather iconic vehicle in the Mini Cooper, which managed an 84.73% pass rate in the UK during 2020. This car can be found quite frequently on the used market, as people outgrow this compact car as their needs change, meaning you can get it for quite a bargain. As for reliability and safety, while the older Minis had reliability issues, the quality of the newer models has drastically improved, so those from 2014 onwards are the best bet. These also come with six airbags, a passenger airbag deactivation switch and electronic systems to help improve grip and stability on those winding British roads. The Mini is a classic and sure to be a great first car for new drivers.
3 – Skoda Citigo
Total MOT Tests: 41,978 | Total MOT Tests Passed: 35,240 |
MOT Pass Rate: 83.95%
Skoda is wholly owned by Volkswagen, a car manufacturer known for its quality of build and reliability, so it's no surprise that the Skoda Citigo makes the top five. Many liken the Citigo to a more affordable version of the Volkswagen up!, as it shares a lot of the same internals and the same spacious boot. Not only does the Citigo boast high reliability, but it also has low running and servicing costs. Originally, the Citigo had a high safety rating from Euro NCAP, though, it was lowered upon the removal of the autonomous emergency braking system. However, the Citigo still has seatbelt warning lights for front and rear seats and a lane support system to prevent drifting, which also intervenes in more dire situations. Rated as the safest used car for new drivers in 2017, it would seem that statement still holds.
4 – VW up!
Total MOT Tests: 95,632 | Total MOT Tests Passed: 80,253 |
MOT Pass Rate: 83.92%
The Volkswagen up!, the close relative of the previous car, is next and despite some of the minor nitpicks users have had with the car, it seems in a similar class to the Citigo. Again, using tried and tested Volkswagen parts there should be no real issues for reliability and the high MOT pass rate would seem to support that. Furthermore, if you buy new, the up! comes with a 3-year warranty or 60,000 miles, which isn't amazing, however, it should offer some extra comfort. Like the Citigo, the up! comes with a host of safety features, such as six airbags, seat belt reminders and electronic stability control, but it's let down by its lack of newer features, namely autonomous braking and lane-keeping assist. However, for a first car, it should prove to be affordable and still safe, despite lacking more modern safety features.
5 – SEAT Mii
Total MOT Tests: 14,758 | Total MOT Tests Passed: 12,029 |
MOT Pass Rate: 81.51%
The Seat Mii rounds out the top five, and it enters as the only car that is strictly electrically powered. A single charge will get you around 161 miles as per the WLPT's testing and can be charged in around one hour with fast charging or four hours from a Wallbox charger, with a single charge costing around £5. The electronics in the Mii should be reliable, as they are similar to the already tested Volkswagen e-up! and the internals of the Mii are relatively simple, with little chance of serious issues. The Mii comes with a few modern safety features, such as lane assist to help prevent drifting, especially handy on motorways, and traffic sign recognition, which uses a camera fitted to the front of the car to detect speed limits and road signs, such as school and construction zones. These features and more make this an incredibly simple, cheap to run and safe car for first-time drivers, despite how old the car is.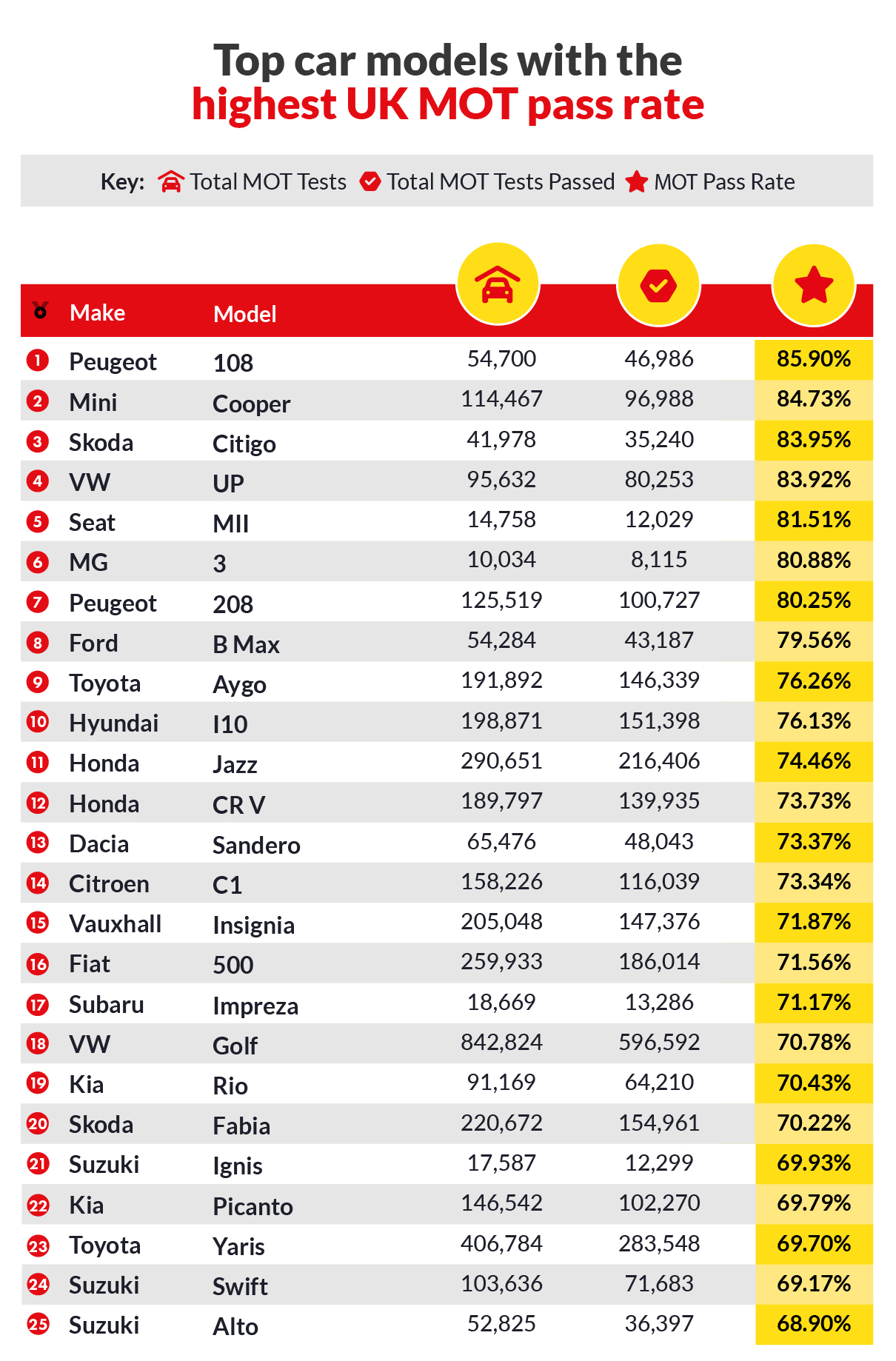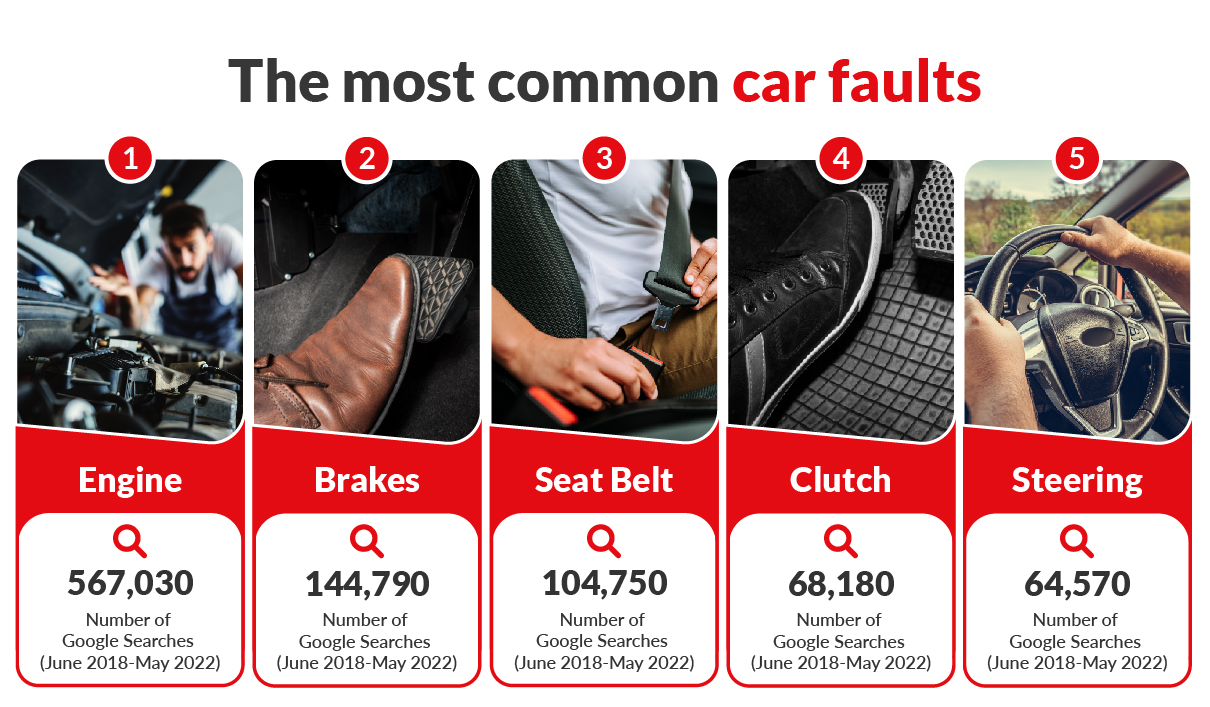 This section's ranking was formed by taking government data, consisting of almost 9,000 car models and then running them all through a tool to discover the number of Google searches for different faults. From this, we can ascertain which of these faults are most commonly occurring.
1 – Engine
Number of Google Searches (June 2018-May 2022): 567,030
Worryingly, coming out as the most common car fault are engine-related problems, which is somewhat unsurprising, given that a car's engine has so many parts that help it run optimally. Most commonly, the engine is affected by damaged spark plugs, inadequate lubrication and a failing oil pump, the majority of which are relatively cheap repairs.
2 – Brakes
Number of Google Searches (June 2018-May 2022): 144,790
Brake repairs are widely known as a relatively common cause for car repairs, taking the number two spot here for common car faults. Within a car's braking system, several elements need to be in excellent working order, from the brake discs and pads to the callipers and cylinders. Even a lack of brake fluid can be cause for concern. However, for the most part, regular checks and maintenance can often prevent serious problems with your brake system and save a new driver plenty of money.
3 – Seat Belt
Number of Google Searches (June 2018-May 2022): 104,750
While a broken seat belt isn't a major fault for the overall functioning of your car, it is a huge safety concern and with 104,750 Google searches, that suggests a common one too. Should your seatbelt break or even the seat belt buckle, it would be imperative that you get it repaired as quickly as possible, after all, it is a relatively inexpensive fault to fix and could save your life in the unfortunate event of an accident.
4 – Clutch
Number of Google Searches (June 2018-May 2022): 68,180
Next, we have the clutch with 68,180 Google searches and this one is potentially one of the more expensive faults. There are a few things that can go wrong with your clutch, and most of them are due to parts of it being worn and in need of replacement, making it vital to do so promptly to avoid incurring heavier costs later on.
5 – Steering
Number of Google Searches (June 2018-May 2022): 64,570
It does not need to be stressed just how important a component functional steering is, however, with over 64,000 searches from 2018 to 2022, it seems it's an all too common fault. One of the most common issues related to steering is difficulty turning the steering wheel. This can be caused by the steering rack or power steering belt being worn out which can make it hard to turn the wheel. In addition, issues relating to a lack of steering fluid or damage to a hydraulic pipe can shut down the power steering. If any of these issues should occur, you should take your vehicle to be inspected by a professional mechanic.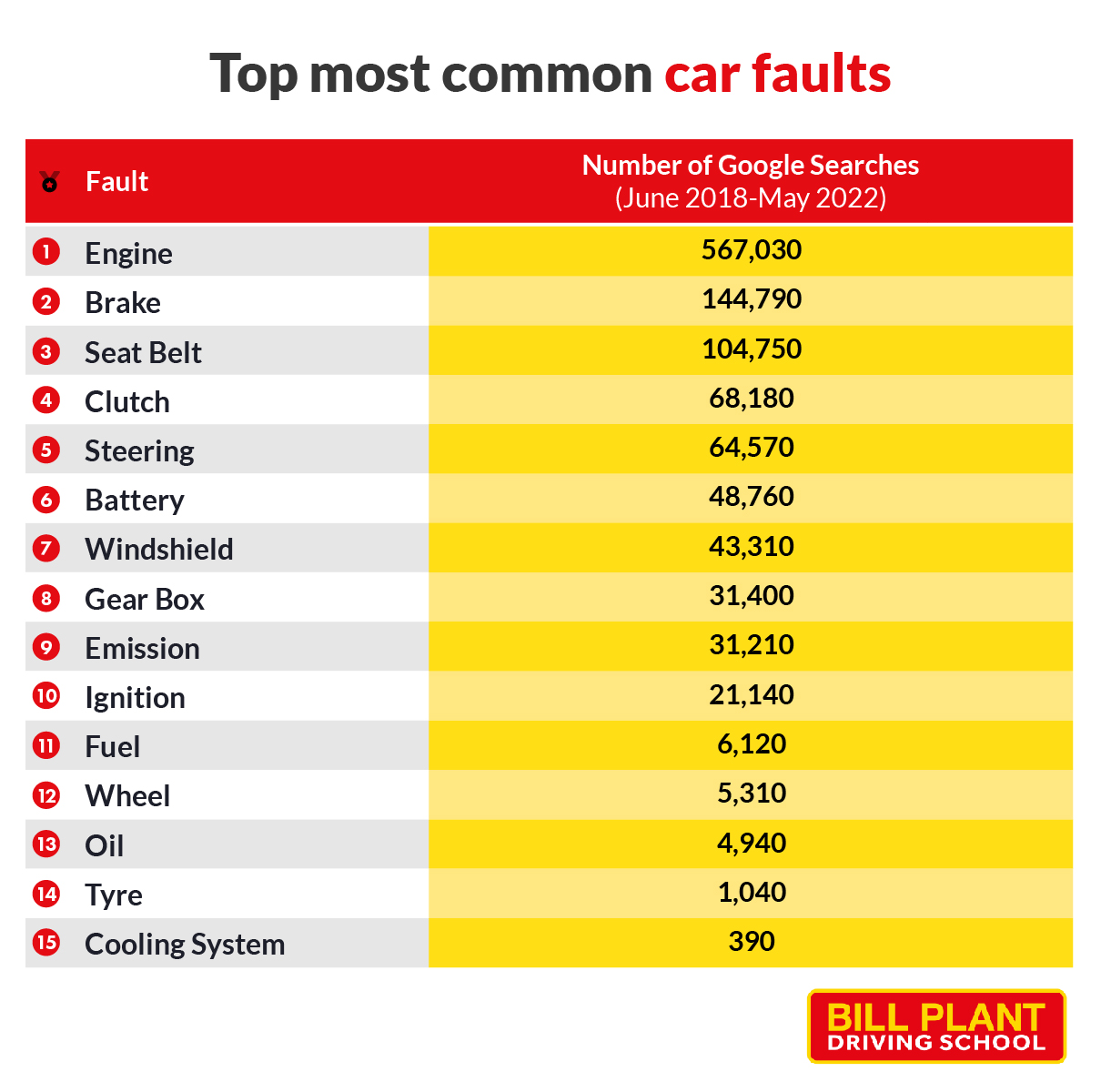 Methodology –
This research used Government MOT data from 2020 to acquire MOT test volume and tests passed for almost 9,000 different models across the UK. From there, we used those two figures to calculate the pass rate. We then ranked each model on its calculated pass rate.
Before ranking them, we cut out all models that had fewer than 10,000 MOT tests to get a more accurate representation of the pass rates. We then further cut down the list of cars, as a lot of them were likely to be outside of a lot of people's budgets, we did this by using lists such as this Auto Express.
For the faults data, we used the same list of vehicle models and then paired each model name with a fault, for example, "engine" and then ran each list through Google Keyword Planner to get the individual search volumes of each model paired with the fault phrase, then we calculated the total volume and finally ranked each fault on this total.